Each year Fairtrade Australia takes the opportunity to shed some light on justice in trade during Fairtrade Fortnight. It's our chance to spread the word that by simply choosing Fairtrade products we make a major dent on global poverty.  
At Tribes and Nations, we are about enabling and empowering our customer to live a just and fair life, where this has a ripple effect of enabling and empowering the producers of our fairtrade products.
Firstly, we seek to enable you to purchase quality, organic, fairtrade and ethically sourced products through our website which interns empowers you to live your values of caring for those who have less, to live ethically and contribute towards a better future.
Secondly, we know this empowers the people who produce the goods we enjoy with a fair wage, so they experience initiative, choice, equality and dignity.
Each year, we take this opportunity to enable you who don't know much about Fairtrade to 'taste and see' first hand what it is about or as a long time advocate to take it a bit further into your realm of influence.
In each case we give you the opportunity to speak up for those who can't through Fairtrade.
Here are some fairtrade facts ~

fairtrade puts people first
fairtrade works with small scale farmers
fairtrade ensures healthy and safe work environments
fairtrade means a fair price/wage for producers' products/work
fairtrade is a valuable contribution to a family's living, giving them access to medical needs, to work and schooling, let alone clothing and shelter.
fairtrade is a rich and engaging experience for us to better understand who makes our products, to gain good insight into the cultures of different nations and know how our choice does make a difference.
fairtrade products, seen and used by our children at home, plants the seed of change for the future.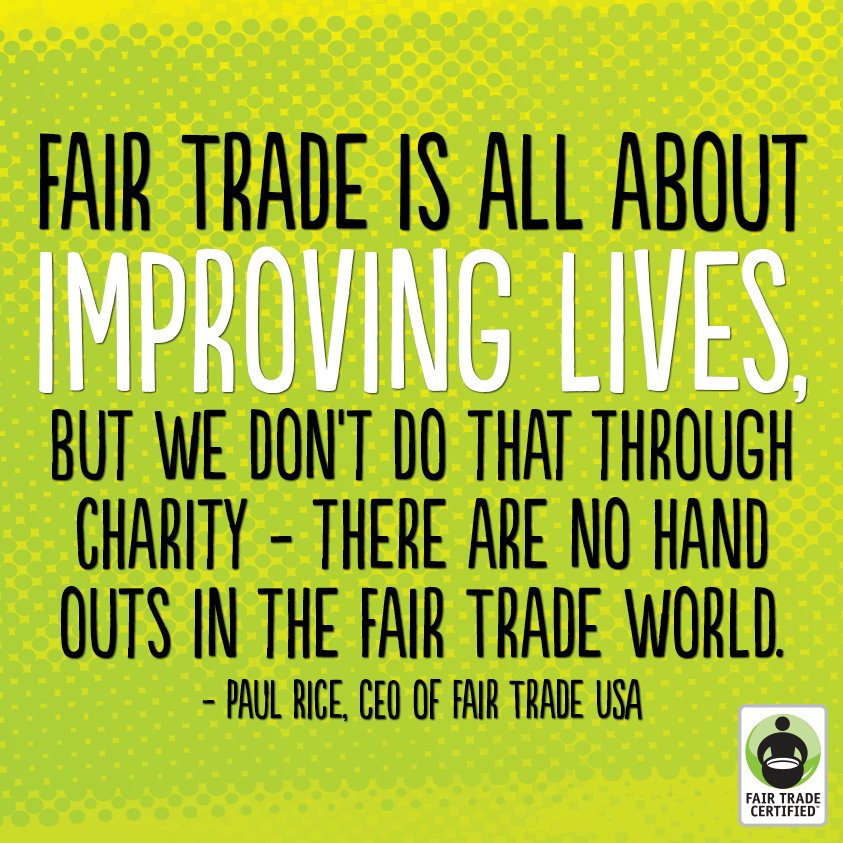 So, whether you are newcomer to Fairtrade or are looking to get more involved, here are some ways to let your creativeness come to the fore to inform your friends, family and community about Fairtrade and trade justice.
1. Try out our Fairtrade Coffee Subscription sampler pack
2. Organise a Fairtrade morning tea
3. Host a Fairtrade coffee tasting session , with our Fairtrade Starter Pack
4. Make a stir-fry with one our Fair Trade, vegan, organic liquid amino delicious sauces.... the choice is yours
5. Look through our Fairtrade store where you can make your own personal dent by committing to purchase one Fairtrade product, regularly, for this year.
You may also like to avail yourself of other information on our site such as:-
" Our desire is not that others might be relieved while you are hard pressed, but that there might be equality. At the present time your plenty will supply what they need, so that in turn their plenty will supply what you need. The goal is equality, as it is written: "The one who gathered much did not have too much, and the one who gathered little did not have too little." 2 Corinthians 8: 13-15 (NIV)
"Do you realise how important you are to the well being of this good earth we live in?
Do you realise your intentional choice ripples out far and wide?
You are like a bee, who pollinates to grow good, creates sweetness, and without them the world would struggle severely for food. Each bee does their thing for their hive, and in doing so, touches the greater good.  This is you!" - Mignonne
'Bee active' for change this Fairtrade Fortnight!
Maybe host a small gathering celebrate, or alter one of your shopping habit for this year, eg; like making your coffee or tea Fairtrade. Which ever you chose, we know your life will be empowered because of the good you are doing and the wide effect it has on many lives.
Please do check our website for all your options, thanks ~ Mignonne
Please email Mignonne on sales@tribesandnations.com.au or call on 02 4751 7071 if you want to talk this through.